The Canadian Cattle Identification System
The Canadian cattle identification system is managed by the Canadian Cattle Identification Agency (CCIA). The CCIA is a nonprofit, industry-led organization and is dedicated to the implementation of technologies and services supporting livestock tracking in Canada. The Agency is led by a board of directors made up of representatives from all sectors of the Canadian cattle. Due to strong industry and government support for its activities the Canadian Cattle Identification Agency has become a global leader in animal identification.
Rapid and Accurate Animal Identification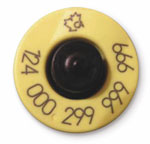 Each animal in the Ontario Corn Fed Beef program must have an approved CCIA Radio Frequency Identification ear tag that can be read electronically. This mandatory Canadian system is enforced under federal regulation and is the first of its type in North America. In addition to enabling individual animal management the Canadian Livestock Tracking System supports Canada's strong commitment to the control and elimination of animal diseases through the National Animal Health Program.
Record Keeping and Cattle Identification
Compliance with the Ontario Corn Fed Beef program requirements is documented through record keeping. This includes records related to the implementation of Good Production Practises that are required under the Ontario Corn Fed Beef quality assurance program. By associating an animal's unique identification number with its records, it is possible to create a history for each animal. Record keeping is a key aspect of our commitment to quality. Records for an animal must be retained by the producer for a minimum of 90 days after the date it is sold.