The Canadian Food Safety System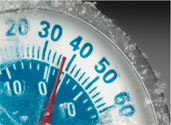 Canada is committed to the ongoing enhancement of its food safety systems through a partnership between industry and government. The development of Hazard Analysis and Critical Control Point (HACCP) food safety systems is an additional requirement beyond traditional meat inspection programs. The focus of HACCP is the prevention of foodborne illness, which continues to be the most important priority of the Canadian beef industry.
Audits by the Canadian Food Inspection Agency
A meat product produced in a federally inspected establishment cannot be sold until a HACCP plan for that production process is developed. Suppliers of meat
ingredients as well as cold storage and freezer facilities must also meet food safety requirements. The HACCP system is audited by the Canadian Food Inspection Agency (CFIA) to ensure it is functioning appropriately. These audits include a
review of HACCP documentation and records, as well as on-site audits of monitoring and verification procedures for CCPs.